SunLight2 Architectural Grade, High CRI LED Bulbs
Like the warmth and brilliance of the sun, SunLight2® LED bulbs provide the most natural, vision-friendly lighting experience for any indoor or protected outdoor location. SunLight2 is preferred by lighting designers and architects to transform spaces with enhanced ambiance and detail, with the long life and performance you expect from LED lighting. 
SunLight2 can serve as a direct replacement for halogen bulbs, saving energy, reducing potentially hazardous heat, and nearly eliminating bulb changes with a 30,000-hour rated bulb life.
SunLight2's color accuracy and vibrancy are ensured with its high Color Rendering Index (CRI) rating of 98+/R9 94+, close to that of natural sunlight but without the sun's damaging UV rays. Flicker-free operation further enhances your rooms with the highest quality illumination. 
SunLight2 bulbs are dimmable; dim-to-warm models are also available, which allow users to dim from a cooler, brighter light down to a warm, comforting glow. 
SunLight2 LED bulbs are ideal for color-critical task lighting, track lighting, artwork lighting, outdoor home and landscape fixtures, and more. 
Key Features Include:
Museum-grade color rendering; CRI 98, R9 94+
Fully dimmable; Dim-to-Warm CCT changes from 3000K to 1800K when dimmed
High efficacy lumen output
Title 24 compliant, flicker-free operation
Low blue emission for healthy vision
Beam angles available: 24°, 36° or 60°
Damp rated & enclosed fixture rated
30,000 hour rating
3 years / 25,000 hours warranty
Applications
Color-critical task lighting
Residential and hospitality lighting
Museum and gallery lighting
Color-critical retail displays (e.g., apparel, groceries, hard goods)
Track lighting, new and retrofit
Indoor and outdoor use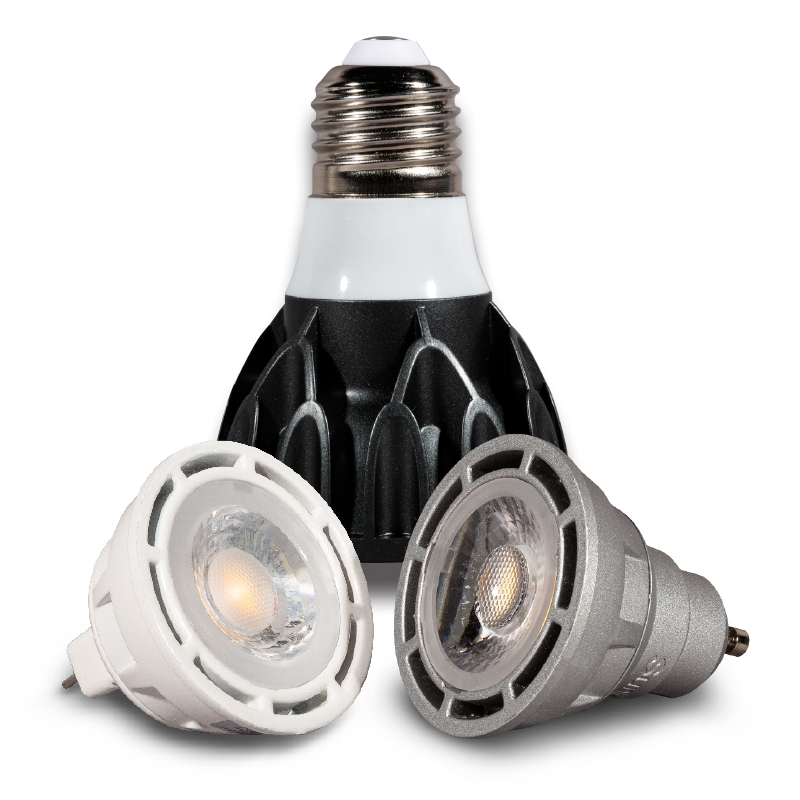 SunLight2 MR16 Dim to Warm LED Bulbs
Model Number: MR168W12V3018KWD (Dim to Warm, 3000K CCT Dims to 1800K)
Socket Type: GU5.3 MR16
Wattage: 8W
Input Voltage: 12V
Available Case Finishes: Silver, Black, White, Aged Brass or Custom
Beam Angle: 24°, 36° or 60°
Luminous Flux: 500+ lm
Download the Spec Sheet (PDF)  >
SunLight2 PAR38 Dim to Warm LED Bulbs
Model Number: PAR38A18W3018KWD
Socket Type: PAR38
Wattage: 18W
Input Voltage: 120V AC
Available Case Finishes: Silver, Black, White or Custom
Beam Angle: 36° , 60°
Luminous Flux: 1200lm
Download the Spec Sheet (PDF) >
SunLight2 PAR38 Single CCT LED Bulbs
Model Number: PAR38A18W60K36 (6500K CCT)
Socket Type: PAR38
Wattage: 18W
Input Voltage: 120V AC
Available Case Finishes: Silver, Black, White or Custom
Beam Angle: 36°
Luminous Flux: 1200lm
Download the Spec Sheet (PDF)  >
For Pricing, Availability and/or Sample Requests
Simply fill out and submit the form below, and an LTF team member will contact you within 24 hours (Monday-Friday, 8am-6pm Central Time)