Low Voltage Lighting Control Modules
In Line Dimmer Module for Low Voltage LED Lighting
Enjoy power and convenience at your fingertips!
Features:
The fast and simple way to add deep, smooth dimming to low voltage lighting systems
Wide dimming range 100% to <1%
Standard DC barrel jack input / output connectors
5, 7 & 10 Year Warranty Options
Instructions for Use:
Use the In Line Dimmer with power supplies that are approved for Low Voltage lighting systems only.
Disconnect the main power to the power supply before wiring.
Suitable for indoor use. Direct wire with DC jack only.
120V AC power to the LED power supply must be disconnected at all times during installation.
Total wattage of all LED fixtures used must not exceed the watt rating of this dimmer.
Connect output of low voltage power supply using DC Jack connector to the input of this dimmer.
Connect DC jack connector from the low voltage lighting system to output side of the dimmer.
Make sure dimmer is connected to low voltage side of power supply.
Turn on the power supply.
All wiring must be in accordance with national and local electrical codes.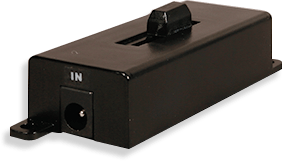 Product Specifications:
Model Number: TA150W24VDIM
Wide Dimming Range:  100% to <1%
Dimming Type: Electronic Low Voltage
Input Voltage: 24V DC
Max Wattage: 150W
Load Capability: 6.25A Max.
Load Type: LED Lighting
Available Colors: Black, White, Custom