S.I. Series Bluetooth Module for Wireless Lighting Control & Dimming
 LTF Engineering and design team has been providing latest technology and innovative IoT and WIFI enabled products to OEM industries since 2017.  S.I. dual channel WIFI/ Bluetooth modules are the latest unique and innovative products enabling CCT tuning possible with standard LED drivers and without need to additional complicated and costly control devices. 
Features:
Transform 12V-24V Constant Voltage LEDs into Bluetooth Wireless IoT Connected Smart Devices
Single Channel for Dim to Warm & Single CCT LEDs
Dual Channel for Color / CCT Tunable LEDs
Durable, Specifier Grade Build Quality & Electronic Components
Ideal for New or Retrofit Installations & OEM LED Lighting Fixtures
WiFi Control with Optional 2.4GHz Bluetooth Mesh Gateway
Tuya Compatiable
Specifications:
For Use With LTF's Lite Stream Mobile App
Model Number (Single Channel): SI1X100WAD1224BT1
Model Number (Dual Channel): SI2X100WAD1224BT2
Input: 12V – 24V DC
Output: 12V – 24V DC (~7.5 kHz PWM)
Max. Wattage: 96W per Channel
Download the Spec Sheet (PDF) >
NOTE:  Do not use Bluetooth Module in combination with hard-wired dimmers (ELV, Triac, 0-10V).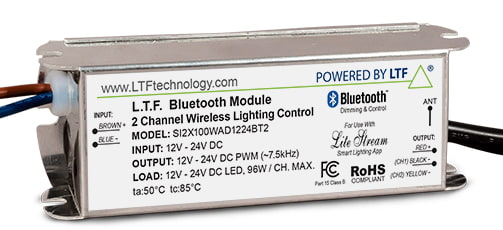 For Pricing, Availability & Inquiries
Simply fill out and submit the form below, and an LTF team member will contact you within 24 hours (Monday-Friday, 8am-6pm Central Time).