QLUX High CRI COB LED Series

U.S. Patent Protected

LTF's QLUX Architectural Grade High CRI COB LED series are versatile and technologically advanced chip on board LEDs, ready for both new and retrofit OEM products. The QLUX COB is a simple to integrate chip with crisp, precise light output, and excellent color over angle with TIR optics. With single channel Dim to Warm and dual channel Color Tuning options, and superior color rendering with high CRI (95+) and R9 (90+) values, QLUX series COB LEDs are the ideal light source for even the most demanding applications.
Key Features Include:
Dim-to-Warm
Color Tunable: Dial in the perfect CCT from 5700K to 2700K
Superior color rendering; CRI 95+, R9 90+
Works with standard driver and dimmers
LM-80 compliant LEDs
Tight binning less than 3 MacAdam ellipses
Low heat generation, easy thermal management
Applications
Architectural grade lighting for commercial and residential settings
OEM LED Lighting Fixtures – Downlights, track heads, pendant lights, wall sconces, table lamps
The perfect option for LED bulbs and modules
Healthy human-centric lighting for hotels, restaurants and homes
Accurate, impressive color rendering for eye catching displays – Retail, art galleries, museums
Color-critical task lighting – Surgical / medical, laboratory, photography / videography
QLUX Single Channel Dim to Warm COB LEDs
Simplicity, Versatility & Superior Light Quality!

COBi Kit – LED Driver, Heat Sink, Diffuser & COBi LED
Model Number: QLUXCOBI1512932WD-KT
The fast and simple way to experience COBi's Museum-Grade Light Quality
Kit includes 15W dimmable LED driver, 15x12mm COBi LED, diffuser & heat sink with nipple mount
1000 lumen output, CRI 95+, R9 95+, Dim-to-Warm, Title 24 compliant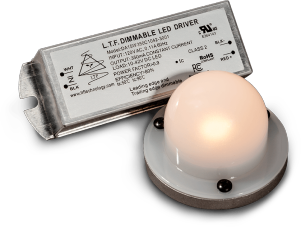 QLUX Single Channel Single CCT COB LEDs
Simplicity, Versatility & Superior Light Quality!

QLUX Color Tunable Series Adjustable CCT COB LEDs
Dial In the Perfect Color Temperature for Any Situation!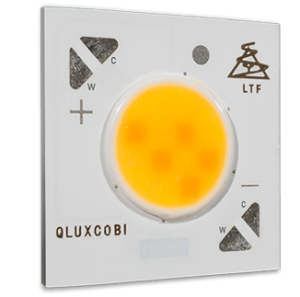 QLUX 13x13mm
Dual Channel Adjustable CCT COB LED: 6600K to 2200K
CRI/R9: 90+/60+
Model Number: LTCOBi1313905727
For more information about our QLUX Series COB LEDs and OEM pricing, please contact LTF