In the lead up to this year's Strategies in Light Conference, LEDs Magazine has announced the finalists in each category of the 2019 Sapphire Awards. The team here at LTF was thrilled to learn that our SunLight2 Architectural Grade Dim to Warm High CRI LED Bulb Series has been chosen as a finalist in the SSL Lamp Design category.
Winners will be announced at the black tie Sapphire Awards Gala on Thursday, February 28 at the Mandalay Bay Resort in Las Vegas, Nevada. A delegation of LTF's best and brightest will be in attendance, dressed to impress and rooting for our SunLight2 bulb to take home the top honors.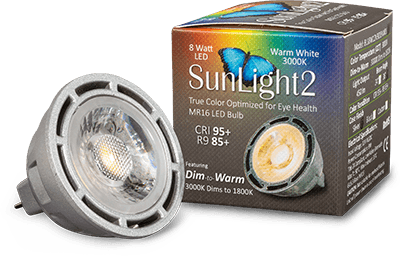 The competition is sure to be fierce, and the judges uncompromising, but we wouldn't have it any other way. With SunLight2's Title 24 compliant light output, superior color rendering (CRI 96+, R9 96), and innovative features like Dim-to-Warm, we feel great about our chances. Stay tuned for the exciting conclusion!
For those that will be attending the Strategies in Light Conference and Expo, we invite you to stop by our display (booth #10706) to see the SunLight2 True Color Optimized MR16 LED Bulb live and in action. Or, please feel free to contact us before the show to schedule a time to meet with us.
SunLight2 Series LED Bulbs are now available in GU10, PAR20, PAR30 and T5 socket types, in addition to the original MR16 form factor.
For more information about SunLight2, view the technical sheet (PDF), and feel free to contact us for inquiries and pricing.